We recently had an opportunity to take a trip to a nearby island we see all the time but had never before set foot on, Salt Spring Island. Salt Spring is the largest of the Canadian Gulf Islands, and a short 30-minute ferry ride from Sidney, which is just a short drive up the penisula from our home.
We started later in the afternoon than intended, and found out while we were on board that due to fleet shortages we couldn't stay as long as we planned, so we must first apologise to our Salt Spring readers and acquaintances that we didn't have time to connect. No worries, we'll be back there soon we're sure.
It's been described to us as "Sort of a more artistic, less stoned/always drunk Key West," and "Woodstock Island" and we find this to be about right. I was half-expecting a custom-painted van with the words "Mystery Machine" in groovy typeface to come rolling along. In Florida terms, it's like someone mixed Key West with
Cassadega
, but with waaaay fewer people -- only 10,500 folks call the island home.
Salt Spring has
an interesting and varied history
, including some time as a haven from racism for African-Americans who had resided in California in the 1850s. 110 years later, in the 1960s, Salt Spring was also a favoured spot for US draft-dodgers of the Vietnam War, and it would seem as though the early 70s never really ended there to this day. In fact, they even have
their own island currency
(which the banks and merchants accept alongside Canadian and US currency).
The island seems equally divided between artisans, farmers, woodsmen and vagabonds to us, though we only drove up from Fulford Harbour straight to the largest "town" on the island, the village of
Ganja
Ganges. Natives grumble that the rich are discovering Salt Spring as a vacation homestead and "ruining" the native/rural flavour, but we saw little evidence of that on our quick visit. It's loaded with lovely scenery, including the high butte of Mount Maxwell, which we will definitely check out on our next visit, and many farm valleys and curvy roads that reminded me for all the world of eastern North Carolina.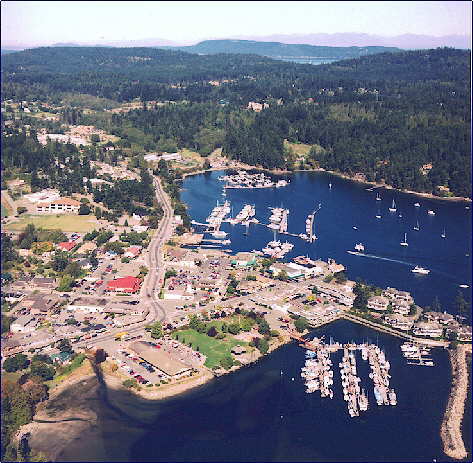 We walked around Ganges for a while (they roll up the sidewalks at 5pm on weekdays it would seem!) -- this is the sort of place where the primary communication and advertising medium is flyers on the phone poles -- had a quick (but yummy) meal at the
Treehouse Cafe
, which featured a terrible musical duet murdering songs of the 70s (sorry dudes!), and high-tailed it back to make sure we were on the last ferry back to Sidney.
Next time we'll venture further afield to get a better feel for it, but if you'd like to take a trip back in time to that peaceful time after Vietnam but before disco, Salt Spring Island seems happy to be stuck there and we recommend it as a great day trip from Victoria.
As with many of our trips, we put up
a photo gallery
if you'd like to see our pictures.